Our office is once again doing a week long detox using the Core Restore kit. Join us and let Dr. Neely guide you through a 7-day science-based detox program that she has experienced and trusts. And as she has done before, she will be completing the detox at the same time and can help share her experiences during the process.
Why detox?
Improved Energy

Weight Loss

Mental Clarity

Better Digestion

Healthy Skin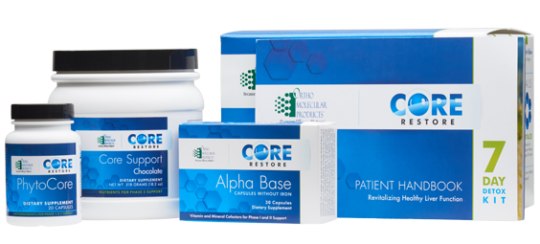 By lowering exposure to environmental toxins and cleansing those that have accumulated in your body, you can feel better and create optimal wellness.
Starting March 30th and running through April 5th
What does the detox involve?
The detox lasts for seven days. The first two days consist of fasting. While fasting days you abstain from everything but water, your normal medications, the provided vitamins, and the Core Restore shakes. On days 3 through 7, you begin to introduce foods back into your diet from the provided list of "clean" foods. You also try to limit your caloric intake during these days.
Some of the food and beverage not allowed during the detox include alcohol, bread, sugar and caffeine – things many of us consume daily.. The detox is a challenge but with big payoffs.
You need to purchase a Core Restore Kit. The kits include the powder, vitamin supplements to take during the detox, and a step by step patient guide. The kits come in either chocolate or vanilla flavor.
Normal price on these kits is $79.95. But for the detox program we get them at a special price and pass that along to you. The cost until April 10th is $59.95.
Call our office and reserve one or just come by during office hours and get one, We have a limited supply.
Once you have the kit, the first thing to do is read the patient guide. The Saturday before the event starts we will send an email with a link to the kick off video. Once the program starts, Dr. Neely will send a daily email with guidance as we progress through the detox program